Meet Paula Hershman and Storehouse Teas
In 2006, Paula Hersman's doctor advised her to quit caffeine because it was causing her health issues. Her friend who was battling cancer introduced her to organic loose leaf tea and she discovered how good tea could taste and make her feel!
However, she wasn't finding it readily available in local stores, and what she did find, was either connoisseur teas (and the price that came with that) or more affordable but low-quality bulk tea. She decided that she needed to fill that need in the marketplace.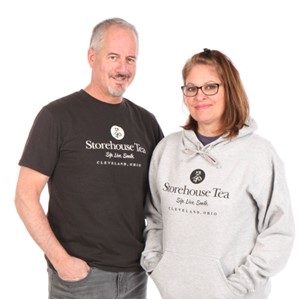 So, while raising three children, Paula Hershman decided to transition from her coffee addiction and graphic design business to start an organic tea business. After realizing her need to get healthy and the hole in the local market for high quality, handcrafted, approachable, affordable, and great tasting, healthy organic tea she decided to get going on her business plan.
She started her business with $300.00 with money from a friend who she did a logo for. This little bit of seed money grew, it took some time and perseverance but for the past fifteen years Storehouse Tea Company, LLC (STC) has been the leader as Ohio's premier Certified Organic, Fair-Trade Tea Company.
They have mastered the art and science of blending great tasting, healthy teas and wellness blends that are fresh, Certified USDA Organic, and many are Fair Trade with high-quality ingredients which is why their teas taste so good. 
Storehouse Tea Company, LLC has built a growing base of loyal and enthusiastic fans that purchase and promote their organic teas and brand name. They love the corporate values as a Certified Organic and Fair-Trade Tea Company that also employs refugees and recent immigrants.
Wanting to make an impact in the lives of others, Paula always saw business not only as a way to offer a great product and experience for the customer but also as a mission to help women in need, specifically the plight of women refugees and recent immigrants. Storehouse Tea continues to succeed as a business and as a social enterprise, their employees are as diverse and lively as their teas.  This year, Storehouse Tea is poised to launch several exciting new Wellness teas and tea-related products in the spring and summer of 2022.
"We wanted to offer clean, fresh, high quality, organic loose-leaf teas that were not only full of flavor, but also accessible to the American palate and priced for everyday enjoyment. My decision to start Storehouse Tea has made an impact on my family's overall health and well-being and so too for our enthusiastic customers that drink them," Paula said.
Storehouse Tea can be found in many local stores and at the following:
storehousetea.com                                                                    Storehouse Tea
facebook.com/StorehouseTea  #SipLiveSmile                          Hildebrandt Building
Instagram @storehouse_tea                                                     3619 Walton Ave.
[email protected]                                                       Cleveland, Ohio 44113
Paula Hershman / President 216-406-9139